Model: QR600-VK, QR600-HK
Dynamic QR Code
 &
MF Reader For Access Control System
General Configuration:




√

Reads Dynamic QR Code


√

QR Reading Distance reaching 18cm


√

Touch Keyboards with backlight


√

Compensation LED light for night use


√

Reads 13.56Mhz Card and cellphone NFC


√

Supports Chile & Argentina National ID PDF417 code


√

IP65 Waterproof and dustproof Case


√

WG34/26/66, RS485 Communication ports


√

Compatible with ZKTeco C3 controller and Inbio Controller
Description:
ZK QR600-HK and QR600-VK are dynamic QR code and MF readers for access control system, with touch keyboards. The readers adopt advanced technology, reaching fast scanning speed at high accuracy rate. They are compatible with any access control panels that support wiegand input. By default, QR600 MF Readers can recognize 13.56Mhz proximity card such as Ultralight, MF1(S50,S70), DESFire EV1, NTag,  and cellphone NFC, together with QR codes & Barcodes.

These QR readers are equipped with metal frame and toughened glass faceplate. They meet IP65 waterproof standard with anti-exposion feature. You can install the readers in outdoor environment. The readers are suitable for a wide  range of applications such as Apartments Management, Visitors Management, Hotel Management, Self-service Supermarkets, Elevator System, etc. 
Free Demo Software is provided for making special settings according to your system requirements. If you need protocols/SDK for further system integration, please contact us.
Specifications:
International Standard
ISO/IEC 14443A RS485 Protocol
QR Code Standard
QR,  Data Matrix,  PDF417,  GS1 Databar,  Code 128/EAN128,  UPC/EAN, Codabar,  Code 39/Code 93
QR Code Types
Electronic QR Code, Paper QR Code, Dynamic QR Code
RFID Card
Ultralight,  MF1(S50,S70),  DESFire EV1,  NTag,  NFC,  CPU,  or ISO/IEC 14443A
Operation Frequency
13.56 Mhz
Working Voltage
12V (No more than 200mA), 5V USB (No more than 500mA)
Resolution
648×488
Reading Distance
RFID>5cm, QR 5.0-18.0cm (Depends on QR Code size , Light Intensity)
Speed
100ms (On average)
Communications
Wiegand (Default WG34),  RS485
Material
Metal Frame, Toughened Glass
Keyboards
Touch Keyboards
Working Temp
-10℃~+50℃
Working Humidity
20% ~ 80%
Waterproof Standard
IP65
Dimension
QR600-VK: 138*58*22.67mm
QR600-HK: 120*80*22.67mm
QR600 Reader Connection Diagram in Access Control System
There are 2 typical ways to connect QR readers with Access Control:
* Standard Wiegand Port: wiegand is international standard protocol, no need any special settings.
* RS485: need some special settings or integration between our readers with your systems.
How to use QR500/QR600 series readers with ZKTeco C3 and Inbio? Read More~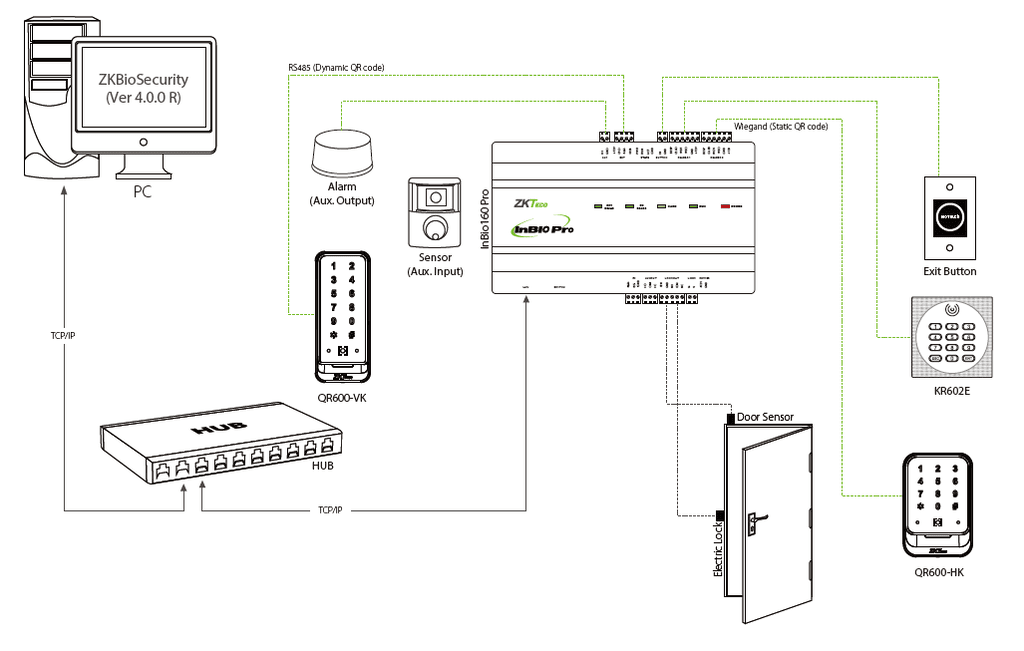 QR600 Series QR Reader Options: QR600-VK, QR600-HK, QR600-V, QR600-H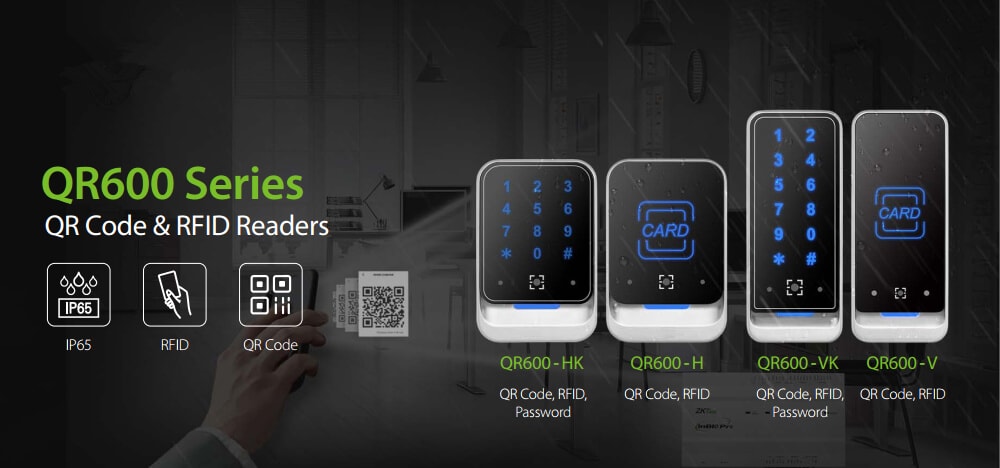 How QR600 Readers work with ZK Inbio and C3 Access Control System
Chat with iSecus on Whatsapp