Introduction
QR500 from ZKTeco is a new generation of intelligent reader with verification of QR code and 13.56MHz Mifare cards and cellphone NFC as well.  It has fast scanning speed, high recognition rate, High compatibility, and can be connected to any access controller that supports Wiegand input. It also support the RFID Functions, like 13.56MHz Mifare Ultralight / DESFire EV1, NTag, So that it can be applied in community management, visitor management, hotel management, unmanned supermarkets and so on.
As a slave reader, QR500 can connect with ZKTeco access controllers and biometric access control terminals through wiegand and RS485 ports.
Supported Popular Model:
Access Controller: C3-100, C3-200, C3-300, Inbio160, Inbio260, Inbio460
RFID & Biometric Access Control: SC700, F18, F19, F21, F22, TF1700, SF300, SF400, iFace, UFace, MiniAC Plus, SpeedFace V5L, ProfaceX, etc.
1. Installation Diagram about QR500 connection with ZKTeco Access Control and Control Panel

2. Wiring Diagram on QR500 and Access Control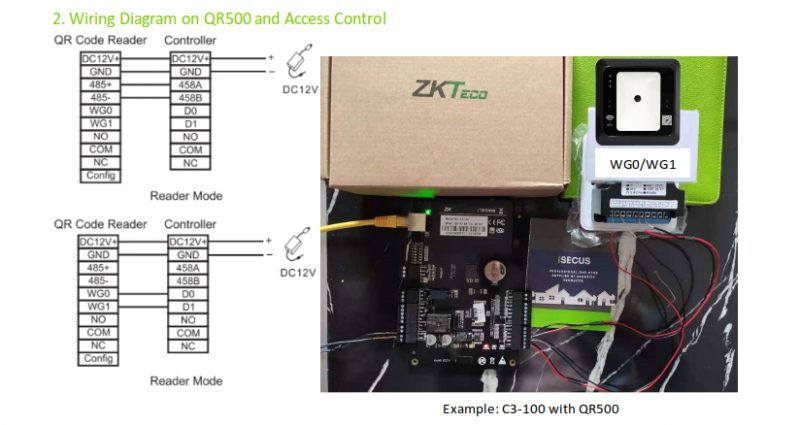 If QR500 connects ZK Controller connection correctly, the devices will be paired automatically without special configuration. ZKTeco Biometric Access Control devices, by default, it is set with Wiegand 26. When working with QR500, please set the device to Wiegand 34.
Note: If there is no response on Master device when you wave card or scan QR code on QR500, please check the Wiegand input Format in ZKTeco Device.
3. How to set QR reader parameters?



We offer demo software to configure QR500 parameters. Connect QR500 with PC through USB

4. How to generate QR Code?



On the internet, you can find many free QR generating tools. We offer demo software to configure QR500 parameters and generate QR code. If you dont have tool to generate QR codes, please open "QR Coe Reader Demo" software, go to Help>QR Code Tool. Input the codes and creat QR code.

5. How to register the QR code in ZKAccess Software?



In the access control system, we can consider the QR code as a group of digital numbers. So when you register new user in software, just put the same group of digital numbers in the area of "Card Number".

6. FAQ about QR500 Application


1). Q: Can the QR500 reader scan QR code and scan RFID at the same time?
A: You can't verify both QR cide and RFID card at the same time. You can only verify either RFID card or QR code at one time.

2) Q: How can I use QR500 for temporarily visit?
A: Create a QR code with timezone restriction and share it with the visitor for temporary access. No need extra cards or other tokens for visitor access purposes. When registe visitor info in ZKAccess software, please set the valid access period in the Access Level Submenu.