Model: KR216 Series
Waterproof Card & Password Reader for Access Control System
General Configuration:
√

13.56MHz or 125Khz Frequency Card/Keyfob/Wristband Reading


√

Touch Keyboard for password input


√

IP67 Waterproof Case for outdoor use


√

Card Reading Distance 3.5-5cm (Non touch)


√

Wiegand 26, Wiegand 34 output


√

Transmission Distance 100M


√

Embeded Beeper


√

Red and Green LED Indicator
Description:
KR216 series wiegand readers can read 125Khz and 13.56MHz cards at fast speed. The reader is equippied with touch key board for password input. KR210M is developped based on ISO/IEC14443A/B/ and ISO15693 international protocols. It is compatible with RFID chips like S50, S70, Desfire, Ntag213/216, Ultralight. The case meets IP67 waterproof protection level, suitable to be installed both indoor and outdoor.
Specifications:
| | |
| --- | --- |
| Case | ABS material with Mechanical Keyboard |
| Frequency | KR212E: 125KHZ |
| | KR212M: 13.56MHZ |
| | KR216EM: 125KHZ & 13.56MHZ |
| Supported Cards | KR212E: ID Card |
| | KR212M: Mifare card like S50, S70, Desfire, Ntag213/216, Ultralight |
| | KR216EM=KR216E+KR216M |
| Reading Distance | 3-5CM |
| Responding Speed | <200ms |
| Wiegand Output | Wiegand 26/Wiegand 34 |
| Transmission Distance | 100M |
| Operating Temperature | -20 ℃ to 65 ℃ |
| Operating Humidity | 20% to 80% |
| Power Supply | DC 12V |
| Working Current | ≤ 200mA |
| Protection Grade | IP67 (Solid epoxy potted) |
| Dimension | 86mm * 86mm * 16mm |
| Net Weight | 140g |
| LED Indicator | Red (Standby Mode), Green (Reading mode) |
| Cable Outputs | Red(VCC), Black(GND), Green(D0), White(D1), Purple(Beep), Grey(CLED), Yellow(+GND-->WG26) |
| Application | Access Control, Time Attendance, POS, Patrol System, Anti-theft System, etc |
KR2XX Series New Wiegand Readers for Access Control System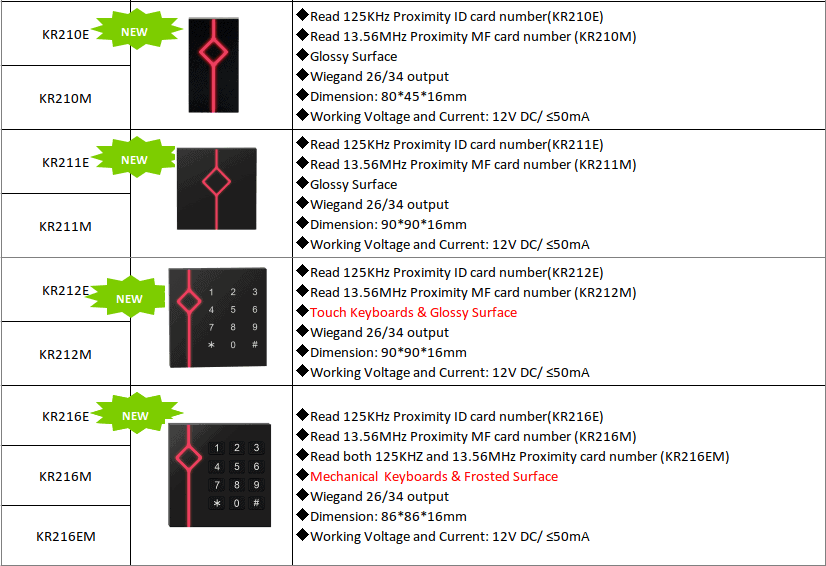 Accessories related to Access Control System