Model: ST100/ST200/ST300 (K14)
Fingerprint Time Attendance
General Specifications:
◆2.8″ TFT LCD
◆Fingerprint Capacity: 2,000
◆Log Capacity: 80,000
◆Communication: USB Host, TCP/IP
◆Standard Functions: Self Service Query, T9 Input, Schedule Bell, SSR and Network Report
◆Optional Functions: ID/MF module
◆Multiple Languages: English, Spanish, Portuguese, French, Arabic, Russian, Farsi, etc
◆Free Software: Time 5.0
If you are looking for a cheap Fingerprint Time Attendance with TCP/IP connection, ST300 model is strongly recommended. It is a very classic model with stable performance and quality.
Description:
ST Series (ST100\200\300) is highly economic fingerprint time attendance device that is suitable for SMB Sector. ST device supports 2000 fingerprint capacity and 80,000 log capacity.
By adopting 2.8" TFT screen with our latest hardware platform and Fingerprint algorithm, it offers brand new UI and user-friendly operation interface to provide good user experience.
It supports T9 input and SSR function. Without PC, you can export the time attendance log easily from device at high speed by USB download. It also supports UPS power input to avoid data loss when power is off unexpectedly.
Features:
◆Fingerprint Recognition
◆2.8" TFT LCD
◆Schedule Bell
◆SSR Report
◆USB Download
◆TCP/IP Communication
◆T9 Input
Specifications:
| | |
| --- | --- |
| Model | ST100/ST200/ST300 |
| Display | 2.8 Inch TFT LCD |
| Sensor | Advanced Optical Sensor(Without Coat) |
| Fingerprint Capacity | 2,000 pcs |
| Logs Capacity | 80000 |
| Algorithm | Finger VX10.0 |
| Verification Speed | Less than 1s |
| Communication | USB Host, TCP/IP |
| Schedule Bell | Can set bell schedule and duration |
| Log Check | User can check logs in device by self |
| Other Functions | T9 Input, ID/MF Module(Optional) |
| Operating Temperature | 0 ℃ to 45 ℃ (-5 °F to 122 °F) |
| Operating Humidity | 20% to 80% |
| Power Supply | DC 5V 1A, 5V UPS (Optional) |
| Dimension | 184mm * 135mm * 46mm |
| Gross Weight | About 1.00KG |
Connection Diagram: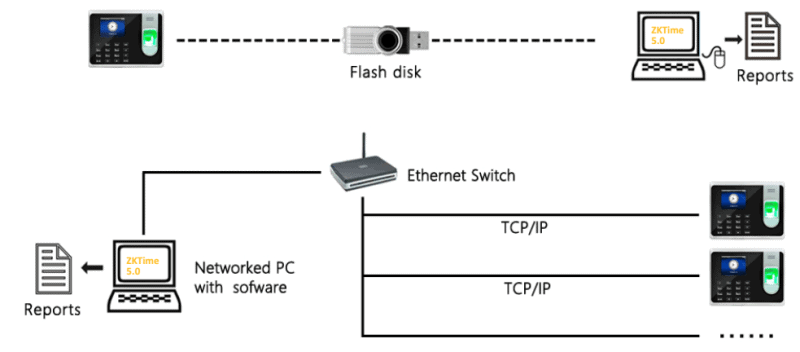 Scan to chat with iSecus in Whatsapp: