Description: Nontouch Exit Switch for Access Control System
Model: TLEB102 (US Size 115x70x29mm)
Model: TLEB101 (EU Size 86x86x29mm)
General Configuration:
√

Non-touch Infrared Technolgy


√

SUS404 Stainless Steel Metal Case


√

Less than 1s Responding Speed


√

Up to 10cm Long Senstivity Distance


√

IP55 Ingressive Protection


√

LED Backlight Indicator
Original High Quality Non-touch Exit Switch. OEM order is welcome.
ZK TLEB101/TLEB102 is a rugged, touchless exit switch with advanced infrared technology built-in. It's a perfect choice for sterile environments such as hospitals, food processing plants, clean rooms, restaurants, bathrooms or labs and most effective option for requestto exit (REX) activation in variety of access controlsystems. The touch free exit button design makes it especially comfortable and friendly use for elderly or handicap users.
Features:
* Door release buttons
* No touch / Touch free Exit Sensor (Diffused Detection)
* Optical / Infrared Technology
* IP-55 Ingress Protection / SUS 304 Stainless steel Plate
* User friendly (Healthy protection)
* Free from contagious diseases spread
* Detection range: 0.1 ~ 10 cm
* Application: Gate/Door/Exit/Automation control
* High capacity of relay dry contact (3A/AC120V,DC30V)
* Normally open/Normally close/Common relay output
* Twin led indicators for sensor standby or approached
* Sensor Standby: BLUE LED ON
* Visitors whom approached to the sensor in 10 cm : RED LED ON
Specifications:
Dimensions
Length 115* width 70* height 38mm (TLEB102)
Length 86* width 86* height 38mm (TLEB101)
Switching voltage
DC 9 ~ 16V
Rated Current
2A
Output Contact
NO/NC/COM
Mechanical Life
100,000 tests in 3 months
Operating temp
-20℃~+50℃
Suitable Humidity
10%-95%
Detection range
2-10 cm
LED Indicator
Blue LED: Standby / Red LED: Open
Weight
0.153Kgs
Construction
SUS304 Stainless Steel
Packing List
Machine*1+White rubber plug*2+KA3.5/30 screw*2
Operation Guide: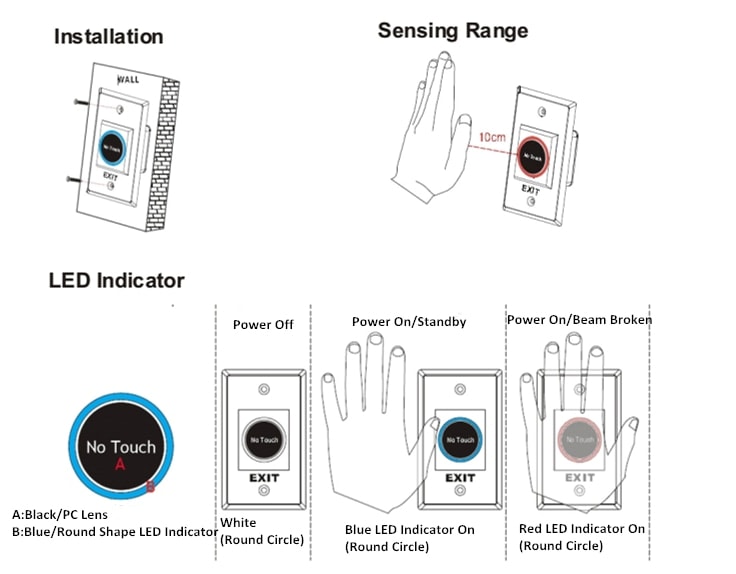 View the Catalogue of Accessories for Access Control System below: