Model: UTi120T (Matches Fluke PTi120)
Pocket Thermal Imager Camera(

-20℃ ~400℃)

with PC and Cellphone Realtime Monitoring
UTi120T is a newly released pocket thermal imaging camera for industrial use to measure temperature from -20℃ to 400℃.
It supports the following configuration:
* IR resolution 120*90
* Temperature Range:-20℃ ~400℃
* Thermal Camera and Visible Light Camera
* SD Card Storage
* Embedded Battery
* WiFi Connection
* PC Software analysis and APP monitoring
* IP54 Waterproof and 1M drop proof
UTi120T is a pocket infrared thermal imager with compact and elegant design. It adopts 3.5″ LCD touch screen with user-friendly operation interface. Its temperature measurement range reaches -10℃~ 400℃ to meet more measurement requirements. It supports thermal image, visible light image and blending image.
The high-brightness illuminator adopts a new generation of sensor modules to ensure excellent infrared resolution and rich color palette modes, which can meet the requirements of multiple imaging shooting modes. The device can take pictures and store them into SD card automatically. PC software is available for image analysis and processing to generate reports. Besides, it supports WiFi and can connect to cellphone app wirelessly.
The device reaches IP54 protection level and 1 meters drop resistance. It is stable and durable.
Features:
* Measurement Range: -10˚C~400˚C
* Accuracy: ±2℃
* Temperature Alarm: High/Low Temperature
* Image Mode: Thermal Image, Visible Light Image, Blending Image
* PC Software for data analysis and report output
* WiFi connection with PC and Cellphone
* Automatic Taking alarm photo and save to SD card
Specifications:
| | |
| --- | --- |
| Specifications | |
| Model | UTi120T |
| IR resolution | 120×90 pixels |
| Field of view (FOV) | 50°×38° |
| Thermal sensitivity (NETD) | <60mk |
| Temperature range |  -20~400℃ |
| Spatial resolution (IFOV) | 7.6mrad |
| Frame rate | 25Hz/9Hz |
| Measurement accuracy | ±2℃ or ±2% whichever is greater |
| Focus | Focus free |
| Digital zoom | 2×, 4×, 8× |
| Display modes | Thermal, image blending, visible light |
| Display | 3.5"LCD |
| Auto capture of Hi/Lotemperature | √ |
| Measurement modes | Point, area |
| WIFI | √ |
| PC analysis software | √ |
| Drop proof | 1m |
| IP rating | IP54 |
| General Characteristics | |
| Power |  Li-ion battery (3.7V 5000mAh) |
| Product color | Red and grey |
| Product net weight | 212g |
| Product size | 205mm x 124 mm x 65mm |
| Standard accessories | Carrying bag, micro USB cable, micro SD card |
| Standard individual packing | Blister, gift box, English manual |
| Standard quantity per carton | 5pcs |
| Standard carton measurement | 387mm x 246mm x 166mm |
| Standard carton gross weight | 2.6kg |
Advantages of thermal imager detection:
1. Intuitive, efficient and convenient, making users directly "see" the temperature variation.
2. Thermal condition of different locations for comprehensive analysis, providing more information for judgement.
3. Avoiding judgement errors, reducing labor cost, and discovering poor heat dissipation and hidden trouble points.
4. PC Software for data analysis and report output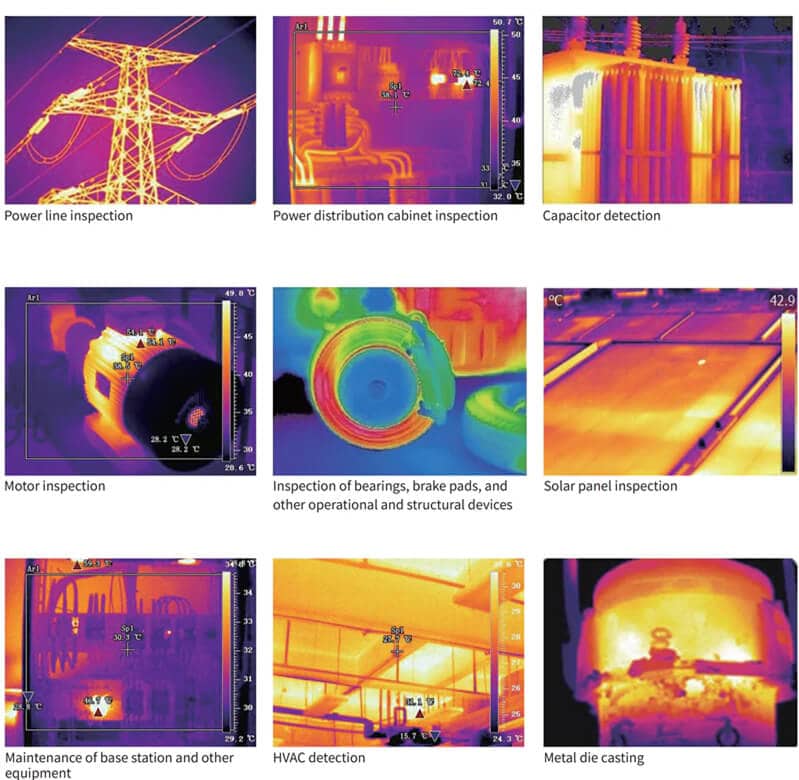 Scan to chat with iSecus in Whatsapp: