Model: SA40
Standalone RFID Access Control with keypads
General Configuration:

√

Card Capacity: 2,000


√

Password Capacity: 2,000


√

Compatible Card: 125Khz or 13.56Mhz


√

Verification Modes: Card Only, Password Only, or Combined


√

Access control Ports for Relay, Door Sensor, Exit Button and Doorbell
Low price, stable quality and fast shipment from iSecus.
Description:
SA40
is a Simple S
tandalone
Access Control device that supports password and RFID authentication. It supports 3 different verification modes: password, RFID, password & RFID. Users can be added and deleted in the device, which is very convenient.
The device supports 2000 user capacity. Therefore, it can be used in a wide range of applications where no network management is needed. It is made by ZK with stable quality. Related price is super competitive. If you are looking for an economic model for distribution, SA40 is highly recommended.
Specifications:
Model
SA40
Operating Frequency
125kHz / 13.56MHz
RFID Type
EM Card / MF Card, S50 S70 IC EV1
Operating Voltage
DC 9 to 15V
Operating Temperature
-20°C to 60°C
Storage Temperature
-20°C to 80°C
Operating Humidity
15% to 90%
Storage Humidity
15% to 90%
Dimensions (L*W*H)
103.5*86*19 (mm) (±3mm)
A&C Standalone
User Capacity: 2,000
Password Capacity: 2,000
Password: 4 to 6 digits
Verification Modes:
Card Only, Password Only, Card and Password
Ports
1 Relay, 1 Door Sensor, 1 Exit Button, 1 Doorbell
Color Option
White, Gray
Access Control System Connection Diagram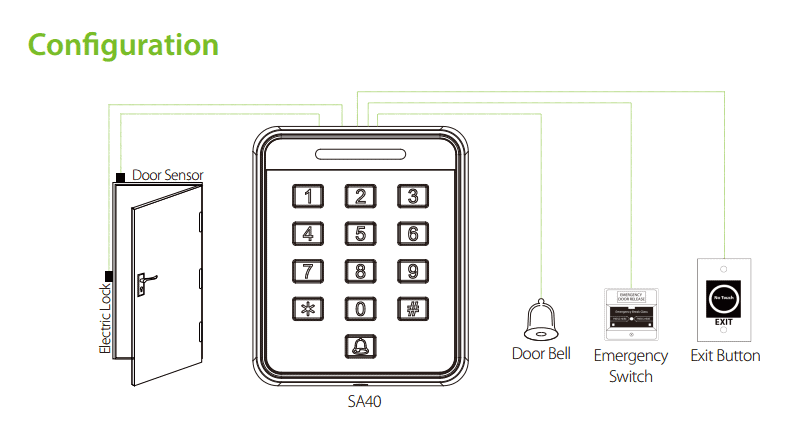 Scan to chat with iSecus in Whatsapp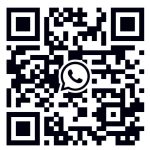 Accessories related to Access Control System