Model: uFace802Plus
Palm, Face, Fingerprint Recognition Time Attendance and Access Control
General Configuration:

√

Face capacity: 3000


√

Palm capacity: 3000


√

Fingerprint capacity: 6000


√

ID Card Capacity:10,000 (Optional)


√

Record Capacity:100,000


√

Communication: TCP/IP, RS232/485,

WiFi

, USB-Host,Wiegand Out


√

Standard functions:

ADMS

, Web Server, Multilpe Vertification Mode, Advance Access Control, Battery Backup


√

Access Control Interface for Third Party Electric Lock, Door Sensor and Exit Button, Alarm


√

Optional functions: ID/MF Module, 3G, External printer
This device is suitable for big enterprises. Brand-new device, High Quality, Good Price and Fast Shipment.
Description:
uFace802Plus is a newly released multibio recognition terminal with time attendance and access control function. It comes with a big capacity, reaching 3000face, 3000palm and 6000fingerprint. It is equipped with ZK's latest hardware platform and 3-in-1 contactless palm recognition algorithm(Palm Shape, Palm Print and Palm Vein). Thefore, the terminal can perform bio-authentication with the palm vein, palm print, and the shape of the palm when the sensor detects a hand presented.
The terminal's touchless palm authentication method with a novel hand tracking technique allows angle tolerance as wide as ±60° in the roll axis. With the advanced palm, face, fingerprint algorithm and multi-biometric verification technology, users can enjoy the terminal's enhanced anti-spoofing ability. This will significantly enhance the security level.
Less than 1s verification speed is reached. Because of its large user capacity, uFace802Plus could be used in many applications.
Features:
◆ Big Capacity: 3000Face, 3000Palm, 5000Fingerprint, 10000 Card
◆ Combined Multi-bio Verification Mode
◆ 4.3" Touch LCD: Touch screen with user-friendly interface
◆ Multiple Communication: RS232/485, TCP/IP, WiFi, USB Host, easy to manage the device
◆ Embedded Backup battery can support around 4 hours continuous operation
◆ Schedule Door Bell: Embedded bell and external bell connection
◆ Built-in Audio Function: Prompt audio acceptance or rejection for valid or invalid
◆ Wiegand Output: Can connect with external control panels
Specifications:
| | |
| --- | --- |
| Display | 4.3-inch Touch Screen |
| Face Capacity | 3000 |
| Palm Capacity | 3000 |
| Fingerprint Capacity | 4000 |
| Card Capacity | 10,000 (optional) |
| Log Capacity | 100000 |
| Communication | TCP/IP, USB Host, RS232/485, WiFi, 3G (optional) |
| Languages | Multi-languages, English, French, Spanish, Arabic, Turkish, Portuguese, Hebrew, Korea, Thai, etc |
| Standard Functions | Web-server, Work Code, SMS, DST, Record Query, Automatic State Switch,Photo ID, ADMS, Scheduled Bell, T9 Input, 9-digit User ID, Multi-Verification Methods, Advanced Access Control, Backup Battery |
| Interfaces of Access Control | 3rd-Party Electric Lock, Door Sensor, Exit Button, Alarm |
| Wiegand Signal | Wiegand Out |
| Optional Functions | ID/MF/HID Card, WiFi, 3G, External Bell/Printer, 485 Reader |
| Algorithms | ZKFace V12.0 & ZKFinger V10.0 & ZKPalm V12.0 |
| Power Supply | DC 12V/3A |
| Operating Temperature | 0°C - 45°C / 32°F - 113°F |
| Operating Humidity | 20% - 80% |
| Dimensions (L*H*D) | 193.54 * 165.14 * 111.48 (mm) / 7.620 * 6.502 * 4.389 (in) |
| Gross Weight | 1.65kgs |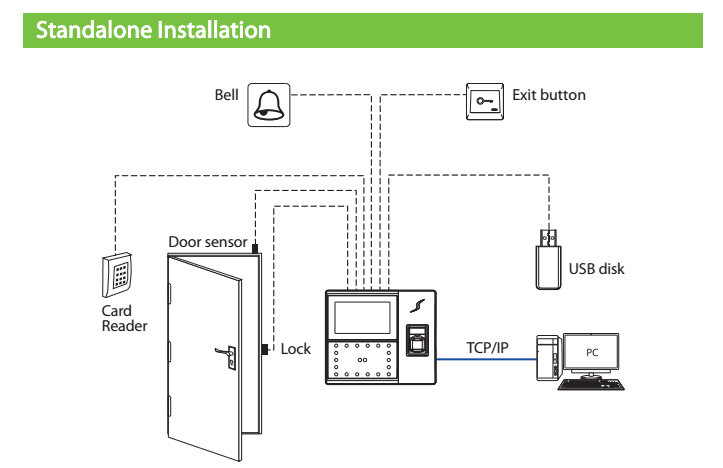 Download:

uFace800Plus Palm Face Time Attendance Catalogue
Get connected with iSecus on Whatsapp:
Scan below QR to chat: