Model: MB560-VL
Visible Light Face and Fingerprint Time Attendance with Access Control function
General Configuration:
◆Visible Light Facial Recognition (2meters recognition distance)
◆Face, Fingerprint, RFID(Optional) and Password verification
◆2.8″ TFT Screen and 16 keypads
◆Device Capacity: 3000 Face and 3000 Fingerprint
◆Communication: TCP/IP, USB Host, WiFi (Optional)
◆Access Control Interface for electric lock,door sensor, alarm,exit button
◆Multiple International Languages
Scan to chat with iSecus in Whatsapp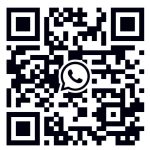 Description:
MB560-VL(xFace100)
is a multi-biometric identification terminal featuring innovative Visible Light Facial Recognition technology. By adopting the latest algorithm and facial recognition related technologies, the device can perform recognition of a target in a distance from 0.3m to 2m. Besides, MB560-VL will function automatically when it detects a face in the detection distance, in order to deliver better recognition quality in terms of speed and accuracy than other ZK regular facial recognition terminal.

By applying Deep Learning algorithm, pose angle tolerance and anti-spoofing, the device has been greatly enhanced against dynamic environment and various spoofing attacks. MB560-VL supports 3000 face and fingerprint capacity respectively. It comes with multiple communication ways like TCP/IP, USB and WiFi
. MB560-VL is an ideal face device, suitable for various working environments and different customers' requirement.
Features:
◆Visible Light Facial Recognition
◆Anti-spoofing algorithm against print attack (laser, color and B/W photos), videos attack and 3D mask attack
◆Multiple verification methods: Face / Fingerprint / Card / Password
◆Optional card modules: 125KHz ID Card (EM) / 13.56MHz IC Card (MF)
◆Supplement lighting with adjustable brightness
◆2 meters of recognition distance and extra wide angle recognition
Specifications:
Display
2.8-inch TFT Screen
Face Capacity
3000
Fingerprint Capacity
3000
Card Capacity
10,000 (Optional)
Transactions
100000
Communication
TCP/IP, WiFi (Optional), USB Host
Standard Functions
ADMS, Work Code, DST, Self-service Query, Automatic Status Switch, T9 Input,
Camera, 9-digit User ID, Multiple Verify Modes, Schedule Bell
Hardware
900MHz Dual Core CPU ;
Memory 512MB RAM / 8G ROM;
2MP WDR Low Light Camera;
Adjustable LED Supplement Lighting
Operation System
Linux
Access Control Interface
3rd Party Electric Lock, Door Sensor, Exit Button
Optional Functions
125KHz ID Card (EM) / 13.56MHz IC Card (MF)
Biometrics Algorithms
ZKFace V5.8 & ZKFinger V10.0
Facial Recognition Speed
≤1s
Power Supply
12V 1.5A
Working Humidity
20% - 80%
Working Temperature
0 °C - 45 °C
Dimensions (W*H*D)
170 * 138 * 38.55 (mm)
Supported Software
BioTime8.0, ZKTime5.0
MB560-VL Connection Diagram

Scan to chat with iSecus in Whatsapp