Model: ZK3969 (MB20)
2.8″ TFT Face and Fingerprint Time Attendance & Access Control
General Configurations:
√

2.8″ TFT Colorful LCD Screnn


√

Face Capacity: 200


√

Fingerprint Capacity: 400


√

Log Capacity: 50,000


√

Communication: USB Host, TCP/IP


√

Multiple International Languages: English, Spanish, Portuguese, Arabic, Farsi, Russian, French, Thai, etc


√

Standard Functions: DST, Self Service Query, T9 Input, Schedule Bell, SSR Report, Simple Access Control
ZK3969 is a typical Face and Fingerprint Time Attendance Device, with high performance/price rate. If you are looking for a TCP/IP face time attendance, ZK3969 is strongly recommended.
Description:
ZK3969(MB20) is a multi-biometric time attendance and access control device that supports up to 400 fingerprint and 200 face capacity. With the latest hardware platform, ZKFace and ZKFinger algorithm, it offers brand new UI and user-friendly operation interface to provide good user experience.

This device is suitable for SMB enterprises, hotels, hospitals, logistics and ect. It comes with elegant design and can support multiple languages like Englihs, Spanish, Portuguese, Arabic, Russian, etc.
Features:
◆Fingerprint Recogniton
◆Face Recognition
◆2.8″ TFT Screen
◆Self-service Report
◆Time Attendance and Access Control Function
◆USB Download, TCP/IP Communication
◆Schedule Bell
Specifications:
| | |
| --- | --- |
| Model | ZK3969 |
| Display | 2.8 Inch TFT Touch Screen |
| Face Capacity | 200 pcs |
| Fingerprint Capacity | 400 pcs |
| Logs Capacity | 50000 |
| Algorithm | ZKFing VX10.0 & ZKFace VX7.0 |
| Communication | USB Host, TCP/IP |
| Schedule Bell | Can set bell schedule and duration |
| Log Check | User can check logs in device by self |
| Other Functions | T9 Input, Simple Access Control, SSR report |
| Operating Temperature | 0 ℃  to 45 ℃   ( -5 °F to 122 °F ) |
| Operating Humidity | 20% to 80% |
| Power Supply | DC 5V 1A |
| Dimension | 104.8mm * 160mm * 36mm |
| Net Weight | About 0.72KG |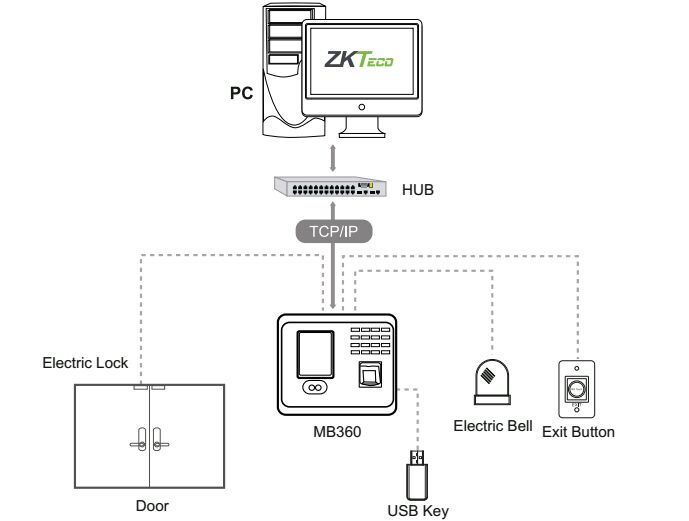 Scan to chat with us in Whatsapp directly: