Model: TX628-P
ZK Palm and Fingerprint Time Attendance
General Configuration:
√

2.8″ TFT LCD


√

Fingerprint Capacity: 3,200


√

Palm Capacity: 300


√

Log Capacity: 100,000


√

Communication: USB Host, WiFi, TCP/IP


√

Standard Functions: DST, Self Service Query, T9 Input, Schedule Bell, SSR and Network Report


√

Optional Functions: ID/MF module, ADMS (For WAN management)


√

Free Time Management Software: ZKTime 5.0 for LAN management
Description:
TX628-P is a multibiometric identification time attendance device. With the latest palm & fingerprint identification algorithm and streamlined technology, it can hold 300 palm templates and up to 3,200 fingerprint templates without dividing into groups.

By punching palm in front of device with distance 8-15cm, the device can verify palm at fast speed, reaching a user-friendly performance. Communicating via Wi-Fi, TCP/IP, and USB host by default, it ensures a smooth connection and data transfer. Amazing verification speed and intuitive operation process make it popular. Elaborately designed and finely processed, it matches your slap-up office perfectly.
Features:
◆Fingerprint and Palm Recogniton
◆2.8″ colorful Screen and 16 keyboards
◆WiFi Connection
◆Multi-type Communication Ports
◆USB Download of Self-service Report
◆Fast Verification Speed at less than 1S
Specifications:
| | |
| --- | --- |
| Display | 2.8 Inch TFT LCD |
| Sensor | Advanced ZK FP & Palm Sensor |
| Fingerprint Capacity | 3200 |
| Palm Capacity | 300 |
| RFID Capacity | 30,000 (Optional) |
| Logs Capacity | 100000 |
| Verification Method | Fingerprint, Palm, Palm+Fingerprint, Palm +ID, Palm + PW, etc |
| Algorithm | ZKFinger VX10.0 & ZK Palm |
| Verification Speed | Less than 1s |
| Communication | USB Host, WiFi, TCP/IP |
| Schedule Bell | Can set bell schedule and duration |
| Optional Functions | ID/MF Module, ADMS |
| Operating Temperature | 0 ℃ to 45 ℃(-5 °F to 122 °F) |
| Operating Humidity | 20% to 80% |
| Power Supply | DC 5V 1A, 5V UPS (Optional) |
| Dimension | 180mm * 135mm * 37mm |
| Net Weight | About 0.80KG |
| Software | ZKTime 5.0, BioTime8.0 (Charged) |
Connection Diagram: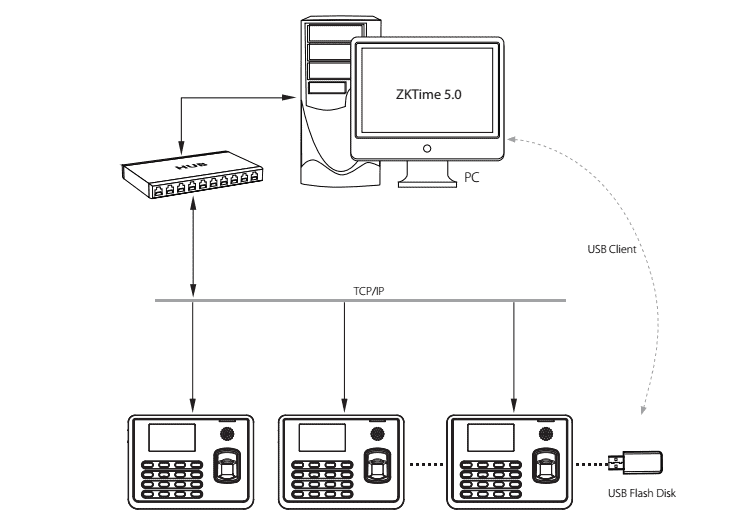 Click to download catalogue (<1MB):
Scan to chat with iSecus in Whatsapp