Model: K3Plus Thermometer
Non-contact Infrared Thermometer with Voice Broadcast (Multiple International Languages are available)
Mounting Options: Wall Mounting, Tripod Mounting
Operation Mode: Body Mode, Surface Mode, Counting Mode
Applications: Schools, Supermarkets, Building Entrances, Subway Entrances, Offices, etc.
Scan to Chat with us in Whatsapp: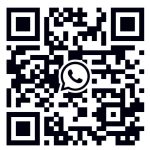 General Description:
K3Plus is a non-contact Infrared thermometer with compact design. The device supports audio broadcast and user can switch more than 10 different international languages in device easily. It can measure surface and body temperature or be used as a counter machine with 999 times capacity. The responding speed is fast and measurement result is accurate.

There are green/yellow/red LED indicator to differentiate varied measured temperature range. It supports alarm temperature setting and temperature compensation settings to realize best measuring performance.

Besides, K3Plus can connect to PC software, supporting realtime temperature data export and data query function.
Features:
◆Green, Yellow, Red LED indicator light
◆Fast Reading Speed: ≤ 1S
◆High Temp Alarm: Sound Alarm & Red Indicator
◆30 groups of memory: Easy to track back
◆Non-contact measuring: 5cm to 10cm distance workable
◆PC Realtime Monitoring
◆Temperature Compensation Setting
◆Device Language: English, Spanish, Portuguese, French, German, Arabic, Russian, Japanese, Koren, etc
Specifications:
| Operation Mode | Surface/Body/Counting Mode |
| --- | --- |
| Accuracy | Body temperature mode: ±0.2 ℃ |
| Measuring Range | 10-42 ℃ |
| Temperature Unit | Celsius/Fahrenheit |
| Display | 4 Digital LED Display |
| Measuring Distance | 5-10 cm |
| Indicator LED Light | Green, Yellow, Red |
| Multiple Voice Languages | EN, ES, PT, FR, JP, KR, RU, ARA, IT, DE |
| Voice Setting | On/Off |
| Temperature Campensation Setting | Yes |
| Alarm Temperature Setting | Yes |
| High temperature Alarm | Flash + Sound Alarm |
| Energy Saving Mode | Auto Sleeping and Waking Up |
| Counting Capacity | 999 Times |
| Storage Memory | 30 Groups |
| Working Environment | 10-40℃ |
| Power Supply | USB 5V/1A (Type C), 18650 Li battery |
| PC Software Connection | Yes, can display realtime data in PC |
| Dimension | 155mm * 104mm * 84mm |
| Net Weight | 223g (Without battery) |